Note: This solution used to work very well however Google changed a few things and it is now somewhat unreliable. Use with caution.
If you need huge storage space for all of your emails and want to keep everything syncronised on multiple devices and computers one solution is to use your domain name email address with Gmail.

This way you can send and receive email using address@yourdomain.com.au but use gmail.com or any Gmail email app to manage and send emails, and you also get to use 15GB of free storage space per address!

The typical way to do this is to sign up to Google's Gsuite package. The cost is US$5.00 per month per account however if your domain is hosted with computerjazz.net (or another domain registrar that includes free email redirection) you can do this all for free!

All you will need is a free Gmail account. You can use an existing gmail account or create a new gmail account at gmail.com

You then add a new email forwarding address in our control panel.

In the following example we setup gmailtest@computerjazz.net and set it to forward to: computerjazzhidden@gmail.com

You set up email forwarding addresses in our client area or you can ask us to do this for you.

(If your domain name is registered with us and you don't know how to setup a new email address for forwarding open a ticket and let us know the new email address you want to create and the gmail email address that you want to forward it to.)

Then check that email fwding is active - i.e. test it by sending an email to address@yourdomain.com.au and check that the email arrives in your gmail.com account inbox.

You can set up as many email forwards as you need to at no extra charge if your domain name is registered with computerjazz.net

The next thing you need is an Email Account to use for sending email (SMTP) from your email address using gmail. You will need this for step 6 below. Google used to provide SMTP for free but now you need to set up an Email Account in cpanel which you can use just for SMTP. (If you don't know how to do this contact us and we will set it up and send you the username and password. We usually create a new Email Account and call it something like forgmail@yourdomain.com so that you know that it is only used for gmail sending.)

If the forwarding is working and your SMTP account is set up here is how to set up your domain name email account in gmail in 12 steps: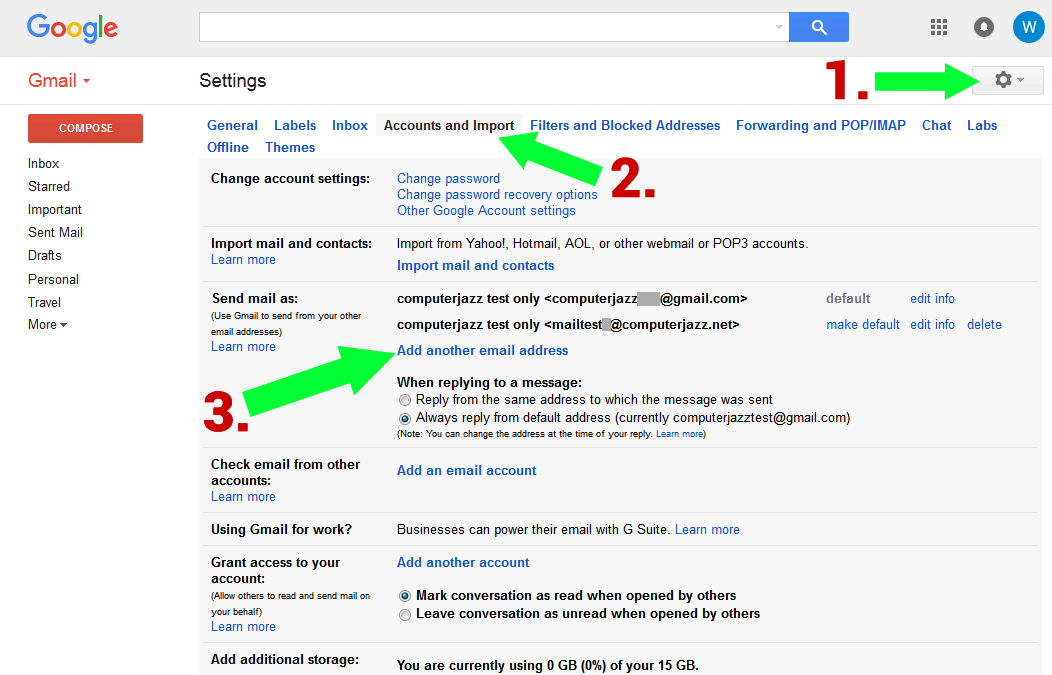 ---
---
---
---

Now check your gmail inbox and copy the confirmation code.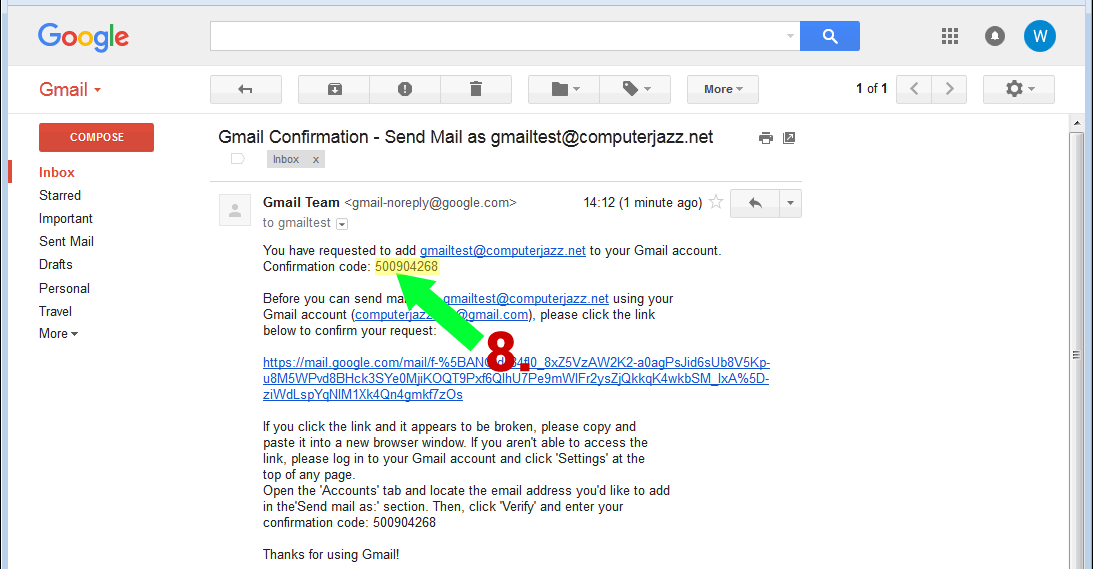 ---
---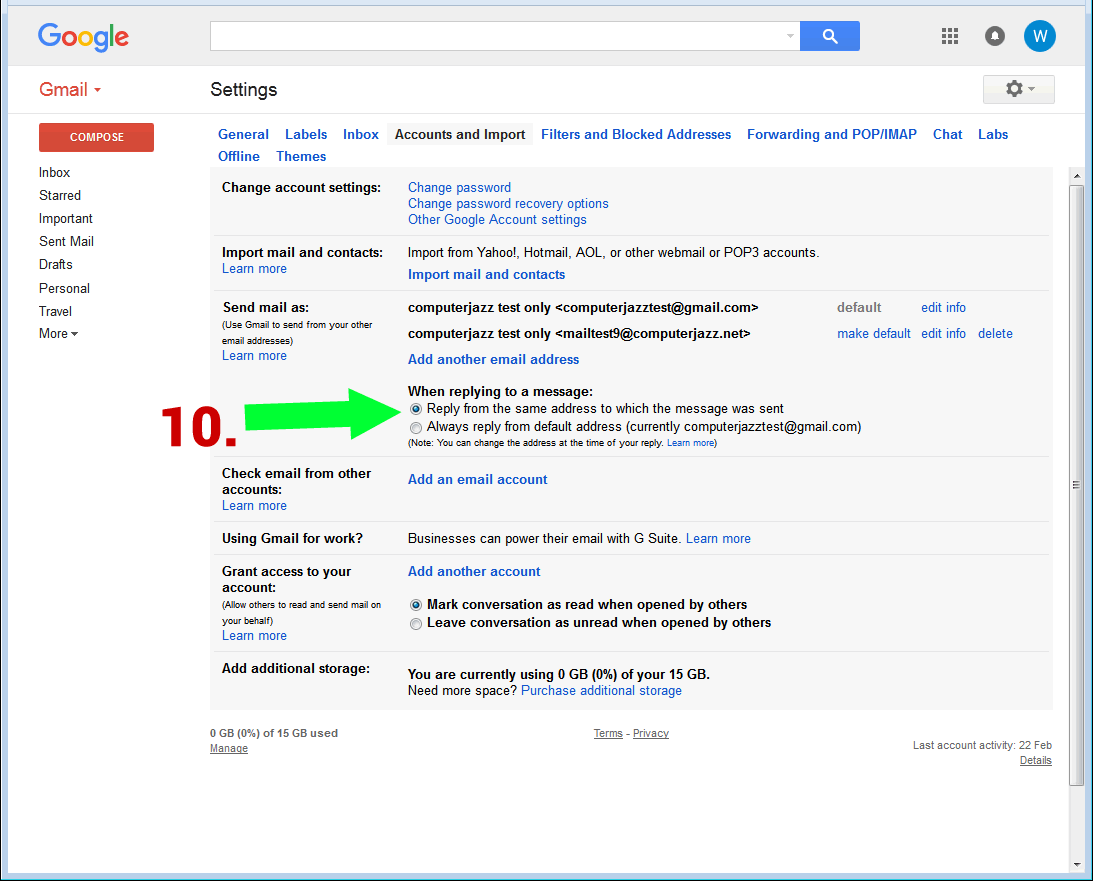 ---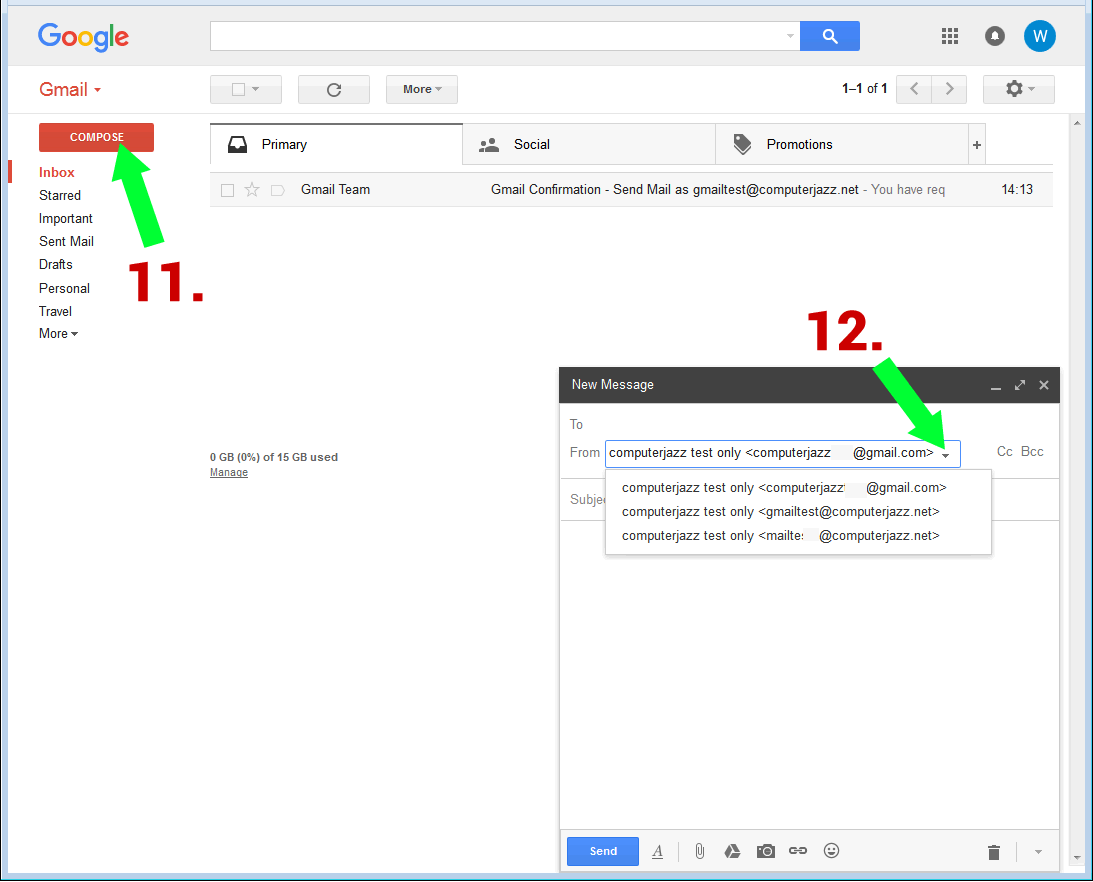 One more optional step - you can use your custom domain email to log into G-Mail account as follows:
Log into Gmail
Click the "Avatar" at the top right and click "Manage Your Google Account"
Click "Personal Info"
Click the arrow next to "Email"
Click "Advanced"
Click "Add Alternate Email" (You might need to log in again)
Add the custom domain email address i.e.
gmailtest@computerjazz.net
and wait for the verification email. Then click the link in the email!